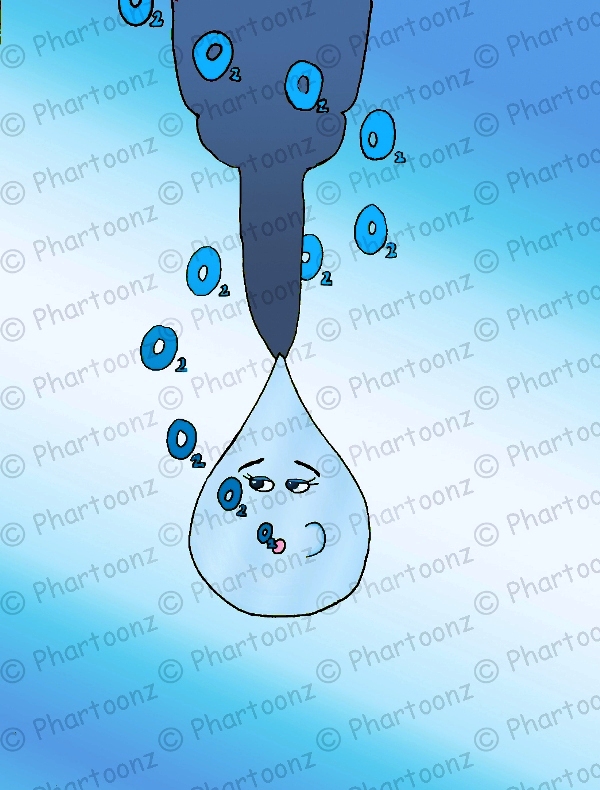 …

O

xygen

…
One of the essential elements for human existence
( + being my favourite gas element in chemistry 😎 )
Some consider this element as " Vitamin O " and claim it could treat or prevent serious diseases such as cancer, heart disease, and lung disease by enriching the bloodstream with supplemental oxygen .
This post is not concerned with easily memorized toons and hints about pharmacology ,
You can consider it as a brief story of Oxygen oral Drops which some consider as nutritional supplements
– but i couldnt resist making a toon first :blush: ! –

1- Ingredients and manufacturing :
Two types of products have been introduced to the market , especially Online shopping :
Type (1) contains Salt water and alittle bit germanium,
It was firstly created and manufactured In the late 90's by a company called Rose Creek  ,
the company was Charged by the FTC and required to stop making claims that this particular product " so called Vitamin O " had any type of health benefit because nothing could actually be proven on it .
and Type (2) Vitamin O product consists of salt water and " stabilized " or " aerobic " oxygen.

2- Uses :
There are tons of such products on internet pages ,
Beside prevention and treatment of serious diseases like Cancer , some products advertise additional uses , for example  :
– adding some drops of the product to drinking water to Purify it .
– washing vegetables and fruits with the product to keep it fresh for longer time upon storage .
– also some claim that a couple of drops could be added topically on wounds to inhance the healing process & on insect bites to relieve stinging and itching .
– regulates metabolism & aids digestion
– sharpens concentration and memory
–  relaxes nervous system and Promotes deep sleeping
and the list iust Keeps going on and on … !
There is No scientific evidence that using or drinking these products would  have any health benefits and actually There really isn't such a thing as " Vitamin O " ..

3- False claims attacked by FTC :
In the Vitamin O advertising , they claim that "oxygen deficiency" or "oxygen starvation" is a big cause of disease and that the oxygen content of the earth's atmosphere has been decreasing and junk food does not contain enough oxygen !!
These claims are not accepted for several reasons ,
-There is no evidence that these products actually deliver oxygen to the body .
It is possible to use an electric current to add a tiny amount of oxygen to water, but to get it into the blood stream , a human would need gills or turn into a mermaid or something !
as Oxygen enters the bloodstream through the lungs Not the GIT .. and The body adapts to what it needs by changing its breathing rate.
– The oxygen content of air is not changing and remains constant at 21% regardless of the weather.
– If enough oxygen is available to sustain life, the body will extract what it needs from the air and deliver it to the cells , and the rest returns to the lungs to be exhaled out of the body.

References :
– US Federal Trade Commission ( FTC ) official web site
– Christine Marquette, registered and licensed dietitian with Marquette Nutrition and Fitness & ACSM Certified Health Fitness Specialist .
Hint : the source of the last paragraph is my uncle's Pharmacy ^_^'