To find part one please click here .. :biggrin:
We mentioned in the previous part two steps of Pharmacokinetics ( Absorption and Distribution ) in this part we will continue the two steps of pharmacokinetics ( Metabolism & Excretion ).
3.  Biotransformation (Metabolism) :
The step where the drug structure changed thus its properties also changed. The most influenced organ for metabolism is the liver , also some drugs may have first pass metabolism in liver like nitroglycerin.
Drugs that have a high rate of metabolism have a low degree of bioavailability , the route of administration of those drugs plays an important role for example  we can't give nitroglycerin PO , as about 90% of its dose will be eliminated by first pass metabolism leaving the body with no effect !
Another example morphine dose when given as tablet is higher than morphine when given as injection , this is due to first pass metabolism effect.
Phases of metabolism : Phase I and Phase II
Phase I aims to convert the lipid soluble drugs to more water soluble , then Phase II aims to conjugate the drug with another compound to form water soluble complex.
The phase I reactions occur in the cytochrome P450 system , phase II reactions occur in the cytosol. In conjugation reaction many substrates form a complex with the drug like : Glucuronate ( the most important one ), Acetic acid , Glutathione & sulfate.
Factors affecting drug biotransformation :
Age and Gender

.

Disease

: specially in liver may affect drug metabolism , for liver diseased patients dose adjustment needed.

Induction of Cytochrome P450 system

: increase the rate of metabolism.

Inhibition of Cytochrome P450 system

: enzyme inhibitors or competition between two drugs for example may lead to decrease the rate of biotransformation.

Genetic difference

: Groups or even individuals are different for example rapid and slow acetylators; the slow acetylators can't rapidly inactivate the drug therefor  dose adjustment needed.
Drugs will be biotransformed by a predictable rates described by two principles :
1. Zero Order Kinetics :
Rare , described as constant amount of drug eliminated by time regardless the drug concentration (linear ) ex: Ethanol, phenytoin & aspirin.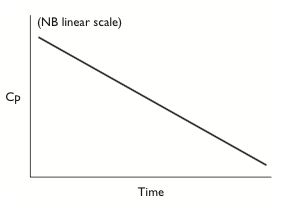 Cp : Plasma Concentration.
2. First Order Kinetics :
More common , the decline in plasma concentration varies depending on the concentration , thus the higher concentration , the higher biotransformation rate. The concentration declines ex- ponentially with time.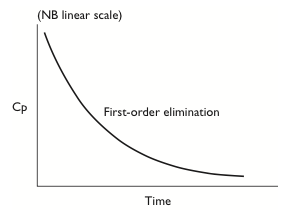 4. Excretion :
Describe the process by which the drug or biotransformed drug is eliminated from the body. The major routes of excretion  are :
Renal ; the most common route of excretion for hydrophilic compounds , the pH controls the excretion rare in which acidic urine enhance excretion of weak bases while alkaline urine enhance the excretion of weak acids.
Fecal.
Skin.
Respiration ( exhaled air ).
Breast milk.
Drug Clearance :
drug clearance defined as the rate of which drug is eliminated from your body, it means the volume of blood cleared from drug per unit time L/h ;  for every drug in any organ has a clearance like renal clearance , hepatic clearance .. etc
Total clearance is the summation of every organ clearance.
Total body clearance  ( CL )= CL (hepatic) + CL (renal) + CL(x)
The rate of drug elimination is directly proportional with plasma concentration Cp , Thus :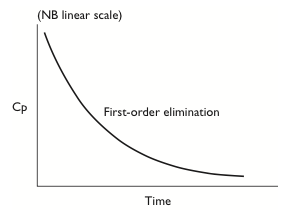 rate of elimination ∝ Cp
So the rate of elimination  = constant  * Cp
This constant in the previous equation is the clreance (CL)
Clearance doesn't apply for drugs follow zero order kinetics but apply for those follow first order kinetics.
Summary :
Pharmacokinetics

 is the study of what the body do to the drug.
The route of administration affects how rapidly the drug reaches the blood stream.
Small molecules pass easily within the cell membranes while large or charged ones can't.
At distribution equilibrium the same drug concentration present in all body compartments.
Lipid soluble drugs penetrates body tissues and BBB , thus they have a greater access to central nervous system than water soluble drugs or hydrophilic drugs.
Metabolism ( Biotransformation ) occurs mainly in liver , thus lipid soluble drugs processed in liver to be more water soluble to be excreted while water soluble drugs eliminated without further processing in liver.
There are many routes of excretion , the most common one is the renal route in kidneys.
Drugs with high first pass metabolism don't administered orally, because they will have low bioavailability , so they administered by other routes.
Cytochrome P450 system induction or inhibition affects the drug elimination.
pH of urine influences the excretion rate of weak acids or weak bases.

The 4 steps of pharmacokinetics occur

simultaneously in the body not respectively.
To be continued ….