How to remember drugs that are used to treat Tuberculosis:
R I P E S
Pharmaceutical mnemonics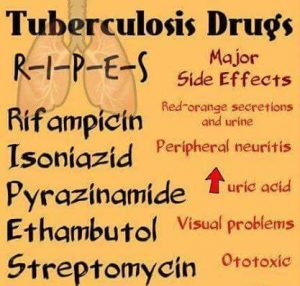 R : Rifampicin
I : Isoniazide
P : Pyrazinamide
E : Ethambutol
S : Streptomycin.
Tuberculosis is a bacterial infection that targeting lungs , caused by a bacterium called Mycobacterium tuberculosis.
TB symptoms include  cough, weight loss, fatigue, and fever.