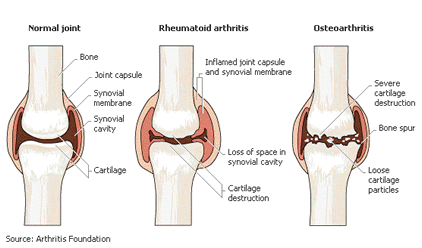 Rheumatoid arthritis VS osteoarthritis
Feature
Rheumatoid arthritis
osteoarthritis
Primary Joint Affected
metacarpophalangeal
distal interphalangeal
heberden's nodes
absent
frequently present
joint characteristic
Soft, warm andt ender
Hard and Bony
Stiffness
Worse after resting
Worse after effort
Laboratory finding

Positive Rheumatoid factor .
Anti-CCP antibody.
Elevated ESR and CRP.

Rheumatoid factor negative.
Anti-CCP negative antibod.
Normal ESR and CRP.