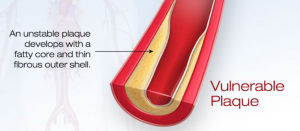 What is Plaque ?
It is a fatty substance that clogs arteries. This is also called Atherosclerosis
Atherosclerosis is a slow, progressive disease that may start in childhood. In some people, atherosclerosis progresses rapidly in their 30s. In others, it doesn't become dangerous until they reach their 50s or 60s. (Some hardening of the arteries is normal as people age.)
In fact, how atherosclerosis starts or what causes it isn't known.
Sheer stress may result in plaque rupture, collagen exposure, platelet aggregation, and clot formation.
How to remember diseases caused by Plaque?
S I M A
S : Stroke.
I :  Ischemia.
M : MI (myocardial infarction).
A: Angina.