The thymus gland is a very important part of Our immune system 🙂
It is the place where T cells are produced and taught how to do their job efficiently , which is to defend the body against evil pathogens :devil:
Imagine the thymus gland as a School for little T- cells  :whistle: … Just like our toon here :happy:
T cells got their name " T " from the word " Thymus" … as they are born in the Thymus gland .
little baby T cells need to learn a very important thing in order to graduate from the thymus gland and do their job perfectly 🙂
The Thymus gland teaches these young T cells how to recognize harmful substances & pathogens and differentiate between them and our normal body cells
Ok, now  🙂 .. how does the thymus gland teach the T cells to do that :wassat: ?
Lets take a look at the blackboard in our toon :whistle:
MHC : Major Histocombatibility Complex 🙂

it's a protien complex that is found on the surface of all of our cells .
it's Just like a fingerprint , Every single person has his own unique MHC ,

the thymus gland make the T-cells memorize our body's unique MHC … so they can recognize our body cells as Normal cells " self " and so they don't attack our own body tissues .
but , whenever a pathogen or a foreign substance enters our body , T cells can recognize it as a stranger " Non self " since it has a strange MHC on it's surface .
[tip]T-cells that skip school & escape from the thymus gland without learning about MHC cannot indentify our normal body cells as self ,
so they mistakenly recognize our body tissues as strangers and attack them … this causes Autoimmune diseases[/tip]
finally , here is a cool vedio that would help if you're studying MHC in depth 😎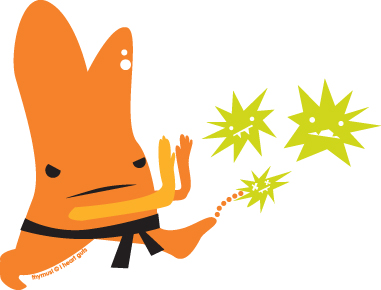 more Toons about immunity that could help :happy: :
Memorizing Immunoglobulins " Types of antibodies "
 Antibodies ↔ complement system >> the Body cookers !
——————
References :
– Physiology lectures in our college – Mansoura university – Egypt

additional pics :
– iheartguts.com
– spiderpic.com